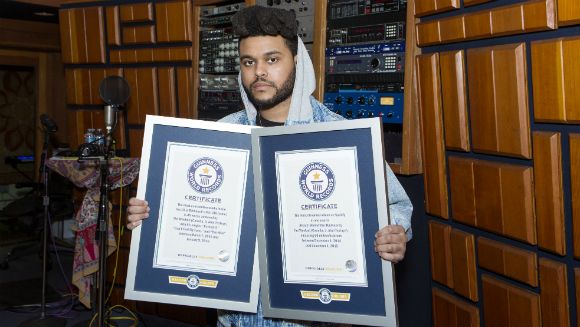 Between teasing us with a potential Daft Punk collaboration, and recently hopping onto the Cashmere Cat cut "Wild Love", it looks like The Weeknd isn't slowing down anytime soon. Aside from the potential new music, the R&B superstar is collecting some serious hardware. While Abel failed to bring home a VMA this past Sunday, the singer can rest easy with an awesome consolation prize.
Thanks to the strength of his immensely popular album, Beauty Behind the Madness, The Weeknd will now land in the 2017 edition of the Guinness World Records. Abel is collecting two new records: Spotify's most streamed album of last year (60 million unique listeners), and 2015's most consecutive weeks in the Billboard Top 10 (for a male artist).
These records are unlikely to stand next year, once Drake's monolithic album, Views, qualifies for the same two categories. Regardless, it's a massive achievement for the singer. Plus, Abel gets to hang these baller plaques in his mansion. How cool would it be to show those things off?