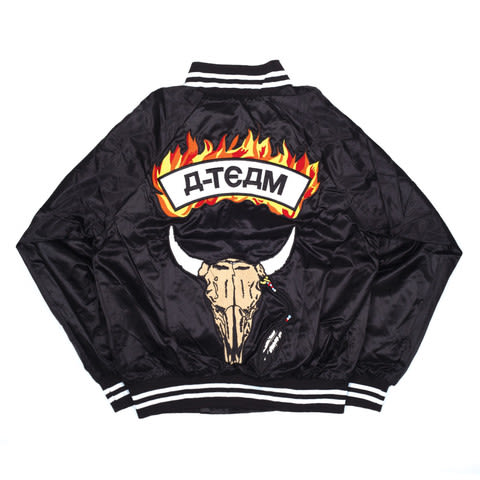 Travi$ Scott is following up the release of Thursday night's "Pick Up the Phone" with a new collection of merch. The latest round of pieces feature the same Southwest-inspired graphics we've seen throughout his Rodeo tour merch, but include some new styles.

This time around, the offerings include three satin bomber jackets in red, black, and navy. Each one features "A-Team" with a longhorn skull on the back and patches on the front of a horseshoe, cactus, and a Texas flag—a likely tribute to his home state. The selection also includes graphic concert tees featuring the action figure from his album cover, hoodies, basketball shorts with flames, and patterned boxer shorts, in addition to some leggings and sports bras for the ladies.

The collection is rounded out with some accessories, which include longhorn cell phone cases, a longhorn hat, a La Flame cactus lighter, and an ash tray.
Scott recently teamed up with the English streetwear brand Maharishi to drop a similar Rodeo-themed collection titled "Year of the Cowboy."
Scott referred to the new merch as a "pop-up," which means it might not be around long. Previously, his merch was only available online for 72 hours. You can shop the merch now at Scott's web shop.