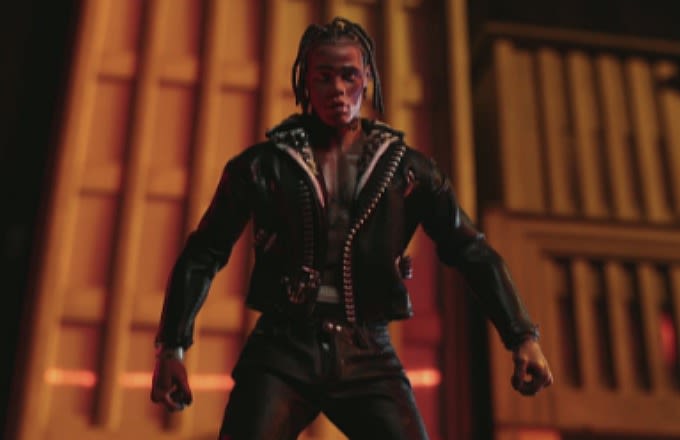 Travi$ Scott unveiled his new video for "90210" featuring Kacy Hill, and the clip finds his famed action figure (last seen on the cover of his 2015 album Rodeo, which contains "90210") going on an epic adventure. The toy version of Travi$ meets up with a girl, with whom he proceeds to have fairly graphic action figure sex. Her face is blurred out the whole time though, so we don't get to see who this Barbie of the night is.
Meanwhile, a much larger action figure Travi$ is going on a certified rampage through the city. He kicks down buildings and tears up signs before peeking his giant eye into the window to watch the alternate version of himself getting down and dirty. Mini-Travi$ later goes outside to see what's up, and finds a blooming tree. Things only get weirder from there. The video is definitely strange, but also very creative and interesting. Director Hype Williams clearly spent a lot of time working on it.
In his 2015 Complex cover story, Travi$ discussed the fact that Rodeo was originally meant to be packaged as an action figure with a flash drive of the album stuck in the back, but his label wouldn't let him do it. Nonetheless, he did manage to make sure the action figures were available for sale. Now that it's the star of one of his videos, it's not hard to imagine them becoming even more of a collector's item.
Apple Music subscribers can watch the video here, and others can check it out here.