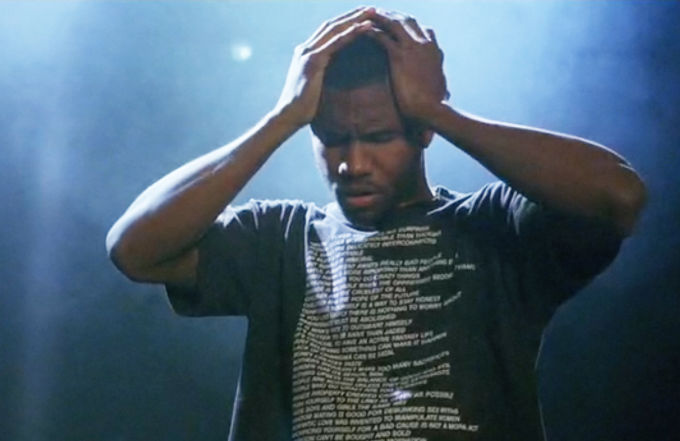 Frank Ocean is reportedly no longer with Def Jam, and the man who originally recruited Ocean thinks the label got exactly what it deserved after not properly valuing him an as artist. Veteran songwriter and producer, Tricky Stewart, signed Ocean to his Def Jam imprint, RedZone Records, all the way back in 2009.
"Frank came in with the best intentions of being a great artist to a label. He was looking at it with an open mind," Stewart told Fader. He went on to explain the artist and label might not have been the best match. "Bringing him into Def Jam was a little bit of a disaster. It was probably, in hindsight, a huge mistake on my part. The label wasn't motivated by the signing. They didn't give him the respect that I thought he deserved. I couldn't really get Def Jam to respond to him the way the way that I wanted them to respond to him."
Ocean was apparently aware of how he was being mistreated, telling Stewart outright that "the label is not supporting me," and releasing Nostalgia, Ultra "out of a survival instinct." The project received an incredibly warm reception from fans and was later officially re-released through Def Jam. Stewart also claimed that Def Jam violated his contract when they didn't involve him in the making of channel ORANGE.
That turbulent past seems to be behind Ocean now, who fulfilled his obligations to Def Jam and Universal with the release of his visual project Endless. Now, he can operate free of the label, which is what he did when he self-released his new album Blonde through his own independent label Boys Don't Cry as an Apple Music exclusive.
"At the end of the day, I think Def Jam created a monster that they couldn't control. He just treated them how he was treated. There's too many artists out here with that story. Luckily for Ocean, he was able to turn a negative time and a negative period into something that worked for him and his family," Stewart said. "This story has got to make label people wake up and realize that they have great talent on their label."