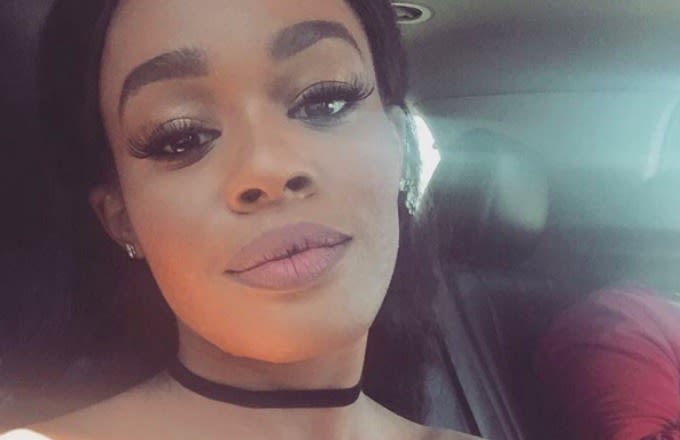 Azealia Banks has landed herself in trouble on social media once again as her account has been suspended by Twitter. An error message on her account reads, "The Account you are trying to view has been suspended."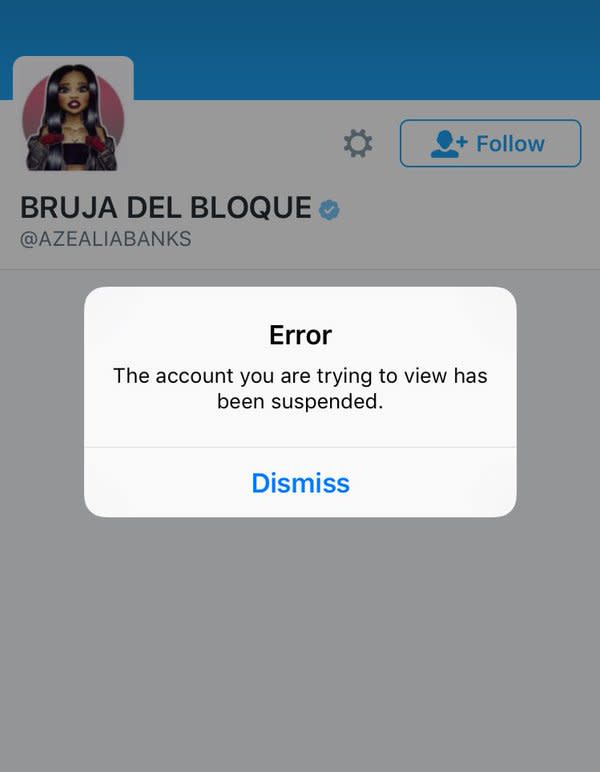 On Wednesday, Banks caught herself once again at the center of a Twitter firestorm when she fired off racial insults at ZAYN. At first, she accused him of copying her "Chasing Time" visual for his new video, "Like I Would," but kept it friendly and called him a "cutie pie." ZAYN then posted a few tweets that many suspected were aimed towards Banks. From there, things escalated as Banks went in on ZAYN with a series of derogatory tweets. She also went at 14-year-old Disney star, Skai Jackson, when she tweeted about Banks insults.
In a Periscope, Banks made an aggressive attack on the UK music scene, calling grime a "disgrace to rap culture in general" and said "y'all niggas in the UK cannot fucking rap." UK artists immediately fired back on Twitter, including Lily Allen, MNEK, and more.
In light of the Banks' Twitter rant, UK radio station Rinse FM dropped Banks as the headliner of its Born & Bred Festival. The official announcement stated the festival "is a celebration of rave culture and has been created for EVERYONE. We celebrate inclusivity and equality."
In addition, UK's Home Office, which is the country's government office responsible for immigration, is reportedly investigating Banks' tweets. The Home Office does not comment on individual cases but told NME, "Coming to the UK is a privilege, and we expect those who come here to respect our shared values. The Home Secretary has the power to exclude an individual if she considers that his or her presence in the UK is not conducive to the public good or if their exclusion is justified on public policy grounds."
Azealia Banks tweeted a conditional apology to people who "took offense" to her statements, but refused to take any responsibility for what she said and blamed those who took offense. "Remember that offense is never given, it is only taken. I apologize to everyone who TOOK offense." Since Banks' suspension, Twitter has popped off with a series of reactions. Finally @twitter police suspend @AZEALIABANKS from Twitter welldone 😂 😂😂😂," one user tweeted. Banks' camp did not immediately respond to Complex's request for comment.
Not complaining but Twitter decide to suspend Azealia Banks NOW? She's been spewing racist and homophobic nonsense for like 4 years

— Uncle Phil (@IdiosyncraticXL) May 12, 2016
AZEALIA'S ACCOUNT GOT DEACTIVATED. LMAO. Twitter finally shut up her racist and homophobic remarks. Thank you @twitter!

— jake martinez (@jake_martinez) May 12, 2016
Azealia Banks has finally been suspended for being a racist dickhole pic.twitter.com/88Jchh4VaQ

— JAY BEE (@mexicanpony) May 12, 2016
Celebs aren't untouchable from Twitter suspension! Azealia Banks has been suspended😂
Serves her right 4 being such a mouthy racist dumbass!

— Mandy (@RocketQueen39) May 12, 2016
Finally @twitter police suspend @AZEALIABANKS from Twitter welldone 😂😂😂😂

— Abrantee (@DJAbrantee) May 12, 2016
Zayn with his music video and Skai Jackson with her drags is the reason why Azealia Banks is officially OVER. pic.twitter.com/Bp0Na6UuCV

— Lady Gaga (@gagamonster96) May 12, 2016
When @AZEALIABANKS tries to come for you and gets her account suspended. pic.twitter.com/AAUD4z72vi

— The Bonnet Whisperer (@DrTGIF) May 12, 2016
Azealia Banks' Twitter account has been suspended. Hopefully…. pic.twitter.com/FD7Q9f4UtR

— Kevin Michael (@TheSkorpion) May 12, 2016
me finding out Azealia Banks account has been suspended pic.twitter.com/PtGhsFlGPC

— Luke Skaiwalker (@eloquentboi) May 12, 2016
Walking on stage to perform at the #AzealiaBanksSuspendedParty pic.twitter.com/HCVuVX05mG

— happy 26th bday van (@VannDerek) May 12, 2016