Kylie Jenner had to get in a quick flex on Snapchat after that harrowing elevator rescue Thursday, flaunting a massive promise ring from Tyga. Now, before we begin, what exactly is a promise ring? Though not quite an engagement ring and certainly not some regular noncommittal piece of jewelry, a promise ring does usually signify a promise of eventual engagement. That's the leading theory here, unless we are to further explore the possibility that King Kylie is just a really big fan of Wisconsin emo.
"If this is my promise ring I wanna know what my engagement ring gonna look like [sic]," Kylie wrote on Snapchat Thursday alongside the aforementioned flex photo. As true scholars will note, Kylie and Tyga were at the center of some serious engagement rumors last year after some ring-flaunting social media appearances sent the rumor factory into overtime hours. Kylie later squashed those rumors, however, adding that the ring was simply an "extra special gift" from an equally special "someone."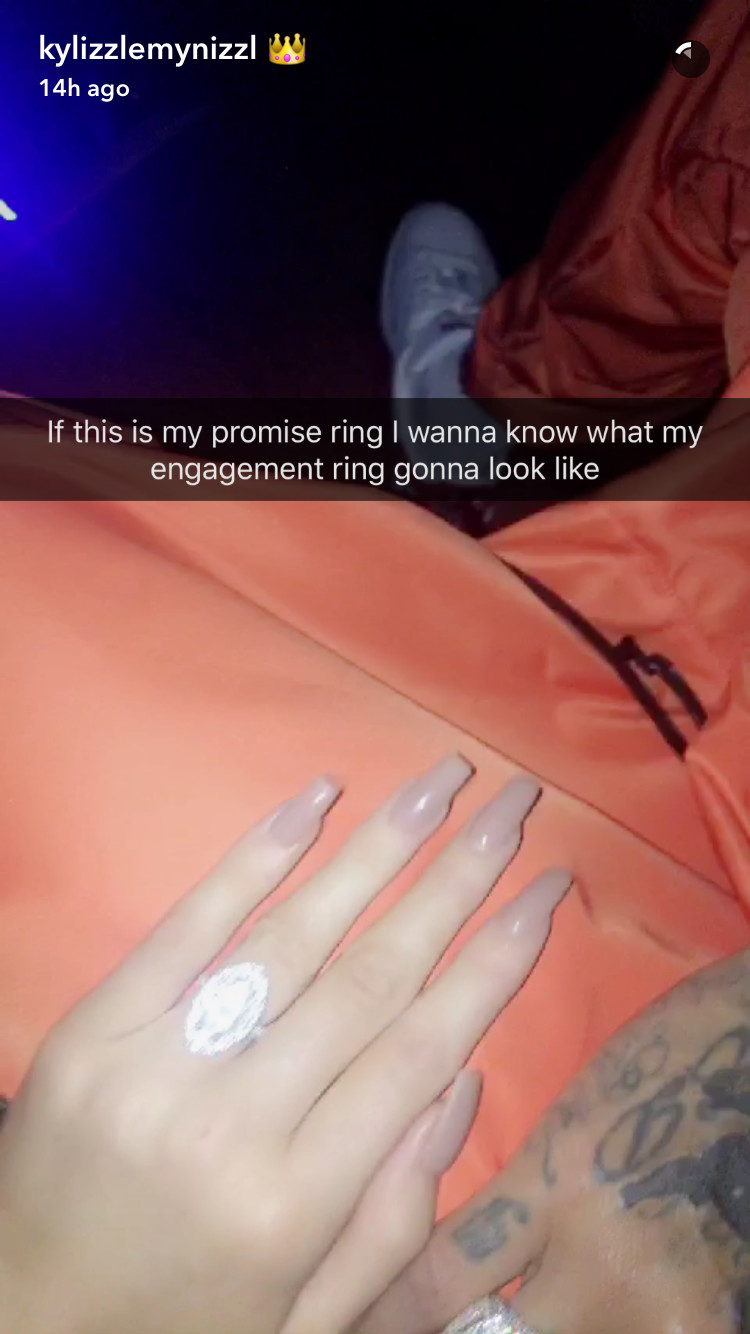 The journey toward Kylie's flaunted promise ring has been a long and complicated one, with many alleged breaks and pauses in the couple's path to royal love. After some time apart, the two seemed to be definitely sorta maybe back together (again) as of June. In the months since, they've been nearly inseparable while supporting each other's enviable career come-ups. Kylie, for example, is out here modeling for Alexander Wang. And Tyga? Well, he's the newest member of the G.O.O.D. Music team:
When Tyga's not busy copping impressive promise rings for King Kylie, he's preoccupied with copping even more impressive Maybachs to celebrate her 19th birthday. Correct me if I'm wrong here, but I think that's called love.