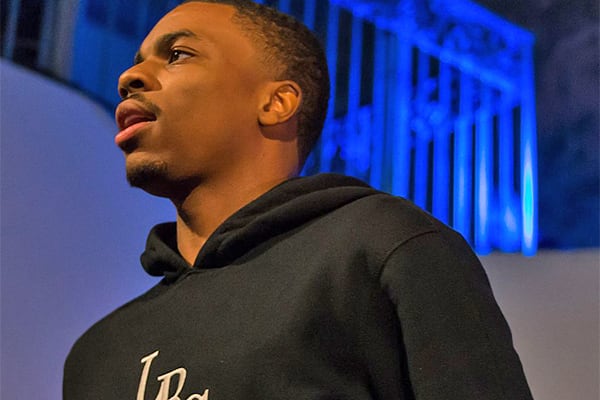 North Carolina's transgender bathroom law has drawn wide-ranging condemnation from pretty much all corners. Politicians have spoken out about it, as have a whole host of actors, writers, musicians, and everyday normal folks. A few months back, the Justice Department ruled that the law violated Title IX, which protects citizens from education discrimination based on sex. And yet, the law still holds sway.
Last night, Vince Staples decided to join the chorus of those who stand by the LGBTQ community in North Carolina and wish to see the law repealed. As per his wont, the Long Beach rapper took to Twitter to express his thoughts on the matter.
Shoutout 2 the whole LBGTQ here in North Carolina. If it was up to me you could poop in whichever bathroom you wanted. #equality #peequality

— Vince Staples (@vincestaples) September 11, 2016
Naturally, because this is social media, some folks took exception to Staples' position.
Nah I gotta unfollow you, you ain't nothing but a puppet https://t.co/MIZ5ORjkPU

— Lorenzo (@freakdaddie) September 11, 2016
But Staples is not one to suffer trolls lightly and quickly shut them down.
If you didn't hate gay people they would be able to tell you that the hair on your chin is not a good look https://t.co/Mm77w2dq2e

— Vince Staples (@vincestaples) September 11, 2016
All you homophobes need to go buy some Alexander Wang & listen to some Frank Ocean to get cha swag up, you losing.

— Vince Staples (@vincestaples) September 11, 2016
When you look at a bottle of Sprite you don't see race, gender, or orientation. You just see lemons and limes.

— Vince Staples (@vincestaples) September 11, 2016
The law in North Carolina essentially prohibits transgender individuals from using a restroom that fits with their self-identified gender. Aside from a load of bad press, the law has had real consequences for the lawmakers and citizens of the state. Bruce Springsteen canceled one of his concerts there, as did Pearl Jam. Most damaging of all, the NBA decided to move the annual All-Star game in 2017 from North Carolina to New Orleans. The game might return in later years, but not until major changes are made in the N.C. legistlation.