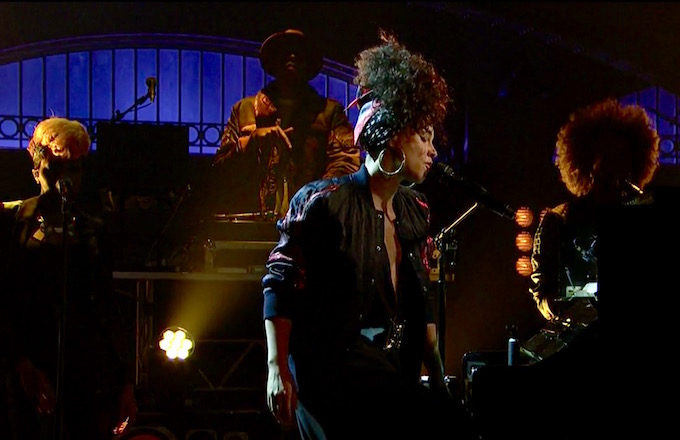 Alicia Keys is back! After a four-year long hiatus, the Songs in A Minor superstar returned to the spotlight and performed two songs from her highly anticipated, upcoming sixth studio album on Saturday Night Live last night.
Bathed in soft light with her side to the camera and standing at an upright piano, Keys began her first number "In Common." The song itself finds the singer running through most of her lines in a breathy hush before building and building into a crescendo by the end. Later in the evening, Keys busted out a completely new track titled "Hallelujah," which is styled more as a classic ballad replete with strings and a heavy tom-tom drum beat.
This of course wasn't the first time that Keys has graced the famous SNL stage. She's shown up a few times before, once when she was first launching her career around 2001, when Reese Witherspoon was the host, to perform the songs "Fallin'" and "A Woman's Worth." She appeared on the show again nine years later in 2010, when Charles Barkley was hosting, to sing "Try Sleeping with a Broken Heart" and "Empire State of Mind (Part II) Broken Down."
While Keys has yet to announce any details related to her next album—what it's called, when it might hit the shelves, who's producing, etc.—a turn on SNL is a clear sign that something has to be coming down the pipeline sometime soon.
Check out Keys performing her newest songs in the clips above.