Wale got into a pretty random altercation outside of West Hollywood nightclub Bootsy Bellows Tuesday night. In a video captured by TMZ, Wale is seen following a woman outside the club. "Are you really following us?" she's heard asking, before she blows a large cloud of cigarette smoke in his face. Naturally, Wale didn't take too kindly to that, and dramatically smacks her plate of food out of her hand. The woman's friend then separates the two as they continue to argue back and forth. It's not clear exactly what they were fighting over, who started it or how things ended, but Wale looks very pissed, especially after getting a face full of cigarette smoke.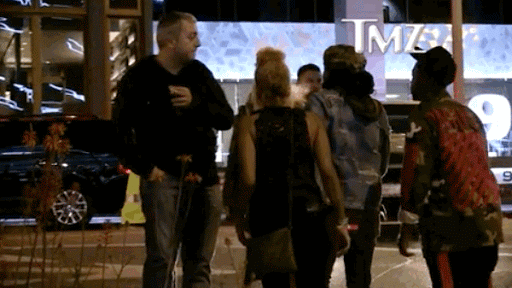 Wale is gearing up for the release of his new album SHiNE. It doesn't have a firm release date yet, but he's already unleashed some new music from the project. His single "My PYT" with Sam Sneak has been making the rounds on the radio, and he recently dropped the song "Stay Winning" feat. Afro B and Sneakbo. Plus, he previewed a collaboration with Travis Scott during a concert in NYC recently, which will hopefully find its way onto the project as well.
Outside of music, he's also been on social media quite a bit recently posing with his new daughter, who was born earlier this year.
Let's hope whatever Wale and this woman were arguing about wasn't anything too crazy. While you wait for more news about SHiNE, you can check out the TMZ footage above.