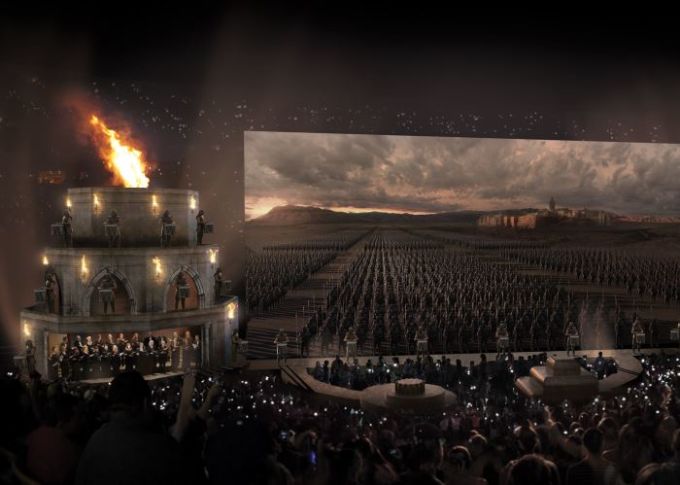 Game of Thrones is going on a concert tour to arenas across the United States, events promoter Live Nation announced today.
Okay, that's cool and all, but game of thrones is a TV show. Game of Thrones is not a band. What does a Game of Thrones "Live Concert Experience" even mean? Is Tyrion Lannister going to be on the mic with Hodor (who is an actual, real-life EDM DJ) on the ones and twos?
Actually, the stars of the HBO series won't be there, but there will be a full orchestra. The epic-sounding language being used to describe the tour with the clever tagline "Music Is Coming" makes it sound fairly, well, epic.
Enter the world of Westeros with the Game of Thrones Live Concert Experience — an immersive music and visual experience that will bring the Seven Kingdoms to life on a scale never seen before. Using state-of-the-art technology, Game of Thrones composer Ramin Djawadi, along with a full orchestra and choir, will take fans on a musical journey through the realm — from King's Landing to Winterfell, along the northern stretches of the Kingsroad to The Wall and across the Narrow Sea to Braavos, Meereen and beyond. Fans of the groundbreaking, critically-acclaimed and Emmy Award-winning show will finally have an opportunity to immerse themselves in the Game of Thrones universe through the breathtaking score created by Ramin Djawadi.
The tour will incorporate scenes from the HBO series as well as new Thrones imagery that's being created specifically for the tour. They're also promising some pretty intense-sounding video technology and stage production to recreate those various spots from around Westeros and Essos. The stage and LED screens will be "360 degrees," Djawadi told reporters at an event to announce the show in Los Angeles.
The music will be from the series. You can assume that will include that opening theme that has definitely been stuck in your head at some point. The tour kicks off in February of 2017, which will be a lot sooner than we'll get a Season 7.
Here's the full list of cities where it will be stopping:
02/15 — Kansas City, MO @ Sprint Center
02/17 — St. Paul, MN @ Xcel Energy Center
02/19 — Chicago, IL @ United Center
02/20 — Detroit, MI @ Palace of Auburn Hills
02/22 — Columbus, OH @ Nationwide Arena
02/23 — Buffalo, NY @ First Niagara Center
02/25 — Uncasville, CT @ Mohegan Sun
02/26 — Philadelphia, PA @ Wells Fargo Center
03/01 — Washington, DC @ Verizon Center
03/03 — Montreal, QC @ Bell Centre
03/04 — Toronto, ON @ Air Canada Centre
03/06 — Boston, MA @ TD Bank Garden
03/07 — New York, NY @ Madison Square Garden
03/09 — Charlotte, NC @ Time Warner Cable Arena
03/11 — Fort Lauderdale, FL @ BB&T Center
03/12 — Tampa, FL @ Amalie Arena
03/14 — Atlanta, GA @ Philips Arena
03/16 — San Antonio, TX @ AT&T Center
03/17 — Houston, TX @ Toyota Center
03/19 — Denver, CO @ Pepsi Center
03/21 — Salt Lake City, UT @ Maverik Center
03/23 — Los Angeles, CA @ The Forum
03/25 — Las Vegas, NV @ MGM Grand Garden Arena
03/26 — Phoenix, AZ @ TalkingStick Resort Arena
03/29 — San Jose, CA @ SAP Center
03/31 — Seattle, WA @ Key Arena
04/01 — Vancouver, BC @ Rogers Arena
04/02 — Portland, OR @ Moda Center
Game of Thrones will return for two more, shortened seasons before ending its run. The first teaser for Season 7 arrived last month.